Bat-Tini by Michael Godard
Low Inventory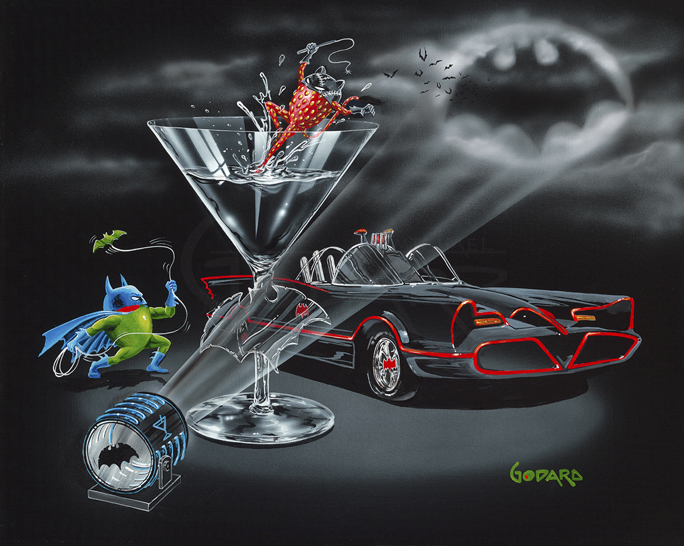 Bat-Tini by Michael Godard
Low Inventory
$ 1,793.00 (Free Shipping, No Sales Tax)
Add To Cart
"Bat-Tini" by Michael Godard
Signed Limited Edition Giclee on Canvas
Image Size: 35 X 28 in.
Edition Size: 300
Bat-Tini (Super Hero)
Low Inventory
$ 6,595.00 (Free Shipping, No Sales Tax)
Add To Cart
Signed Limited Super Hero Edition Giclee on Canvas
Hand-Enhanced and Signed by Michael Godard
Comes with an Original Super Hero pencil sketch
Image Size: 40 X 32 in.
Pencil Sketch Size: 11 X 14 in.
Edition Size: 50
For as long as I can remember, I've always wanted to be Batman. I collect memorabilia; have a movie-quality costume and even a genuine, drivable replica of the 1966 Batmobile that is identical in every detail-including a flaming exhaust!
In Bat-Tini, the sexy cat-strawberry is making her escape. The bat symbols are my own design, taken from the large tattoo on my stomach. Now I'm not saying I'm batman but no one's ever seen Batman and I in the same room!--Michael Godard
---