$100 Bill Snake Eyes by Michael Godard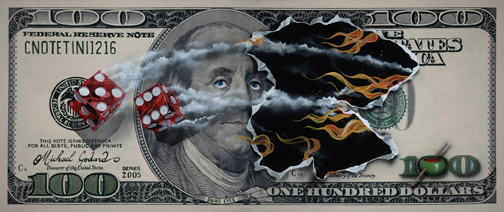 $100 Bill Snake Eyes by Michael Godard
$ Call (Free Shipping, No Sales Tax)
Signed Limited Edition Giclee on Canvas
Image Size: 57 X 24 in.
Edition Size: 200
$100 Bill Snake Eyes (Mural)
$ 3,995.00 (Free Shipping, No Sales Tax)
Add To Cart
Signed Limited Edition Giclee on Canvas
Image Size: 71.25 X 30
Edition Size: 100
This large mural-sized Godard will make a huge impression in any room of your home! Incredibly detailed art with many fun hidden surprises in the engraving of the bill.
---