Company X-mas Party by Michael Godard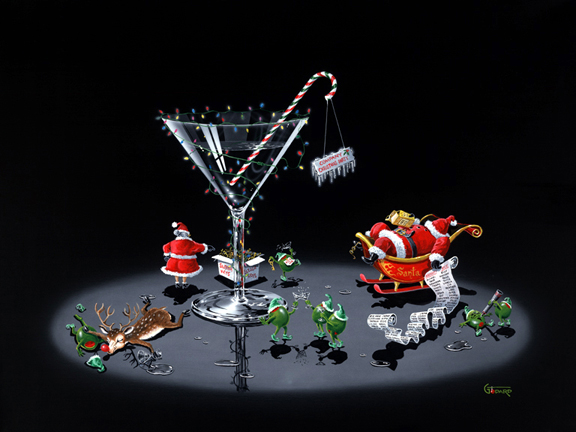 $ Call

Signed Limited Edition Giclee on Canvas
Image Size: 35 X 28 in.
Edition Size: 210
2004 Holiday Release, first in an annual holiday series.
Company Christmas tells the real story of what happens at Santa's Christmas party.
* Santa like any good boss is completely tanked off of "Keg Nog"
* Mrs. Clause concerned with the safety of her hard working olives is collecting sleigh keys
*Rudolph can party no more so he is passed out with his drinking buddy
*Of course there is always one or two people who get a little to drunk to early. Our lady olive is passed out in the corner while a not so sober olive draws a funny face on her and who can forget the crazy drunk running around with the "kick me" sign on his back.
*There are always those olives who like to hook up at the company party. The 3 olives in the corner are toasting to seal the deal.
*The martini glass is decorated to the hilt with Christmas light, and what Christmas party would be complete with out a Peppermint Candy Martini to keep the party going till the wee hours or however long these olives can last.
*Santa's naughty list is definitely growing after this party.
Are you on Santa Naughty or Nice list?
---